The Solution Series of products is formulated for oily or acne-prone skin. It is also appropriate for adults and teens who are experiencing mild to moderate acne. These alcohol-based products help dry up excess oils while dissolving blackheads and cleansing pores, revealing fresher, smoother skin. The 12% solution incorporates salicylic acid to enhance exfoliation and open clogged pores. Choose from three glycolic acid strengths: 5%, 10% or 12%.
Available in 4-ounce size.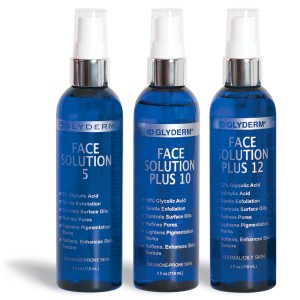 Renewing Products with Glycolic Acid
Reveal smoother, clearer, healthier-looking skin and reduce the signs of aging and photodamage with GlyDerm Renewing Products with esterified glycolic acid. 
Ask your physician
 which GlyDerm products are right for you.