GlyDerm® skincare products are uniquely formulated with esterified glycolic acid. GlyDerm's proprietary esterification process allows for a time-released delivery of glycolic acid. This distinctive process allows GlyDerm to deliver gentle, full-potency glycolic acid without the unwanted irritation and clinical unpredictability of other glycolic formulations.
Glycolic acid is an alpha hydroxy acid, a naturally occurring compound derived from the sugarcane plant. Alpha hydroxy acids have long been used on variety of skin conditions, including photoaged skin, and to reduce the signs of aging in skin. It has the smallest molecular size of any of the alpha hydroxy acids, allowing it to easily penetrate the outermost layers of the skin.
A common problem with alpha hydroxy preparations has been that, while effective, they can be very irritating and drying to the skin. To combat these problems, many products rely on neutralizing a portion of the acid to make it more tolerable. Once an acid is neutralized, however, it is rendered ineffective and can no longer work to rejuvenate the skin. Formulations that reduce a portion of the glycolic acid through partial neutralization increase tolerability but sacrifice potency.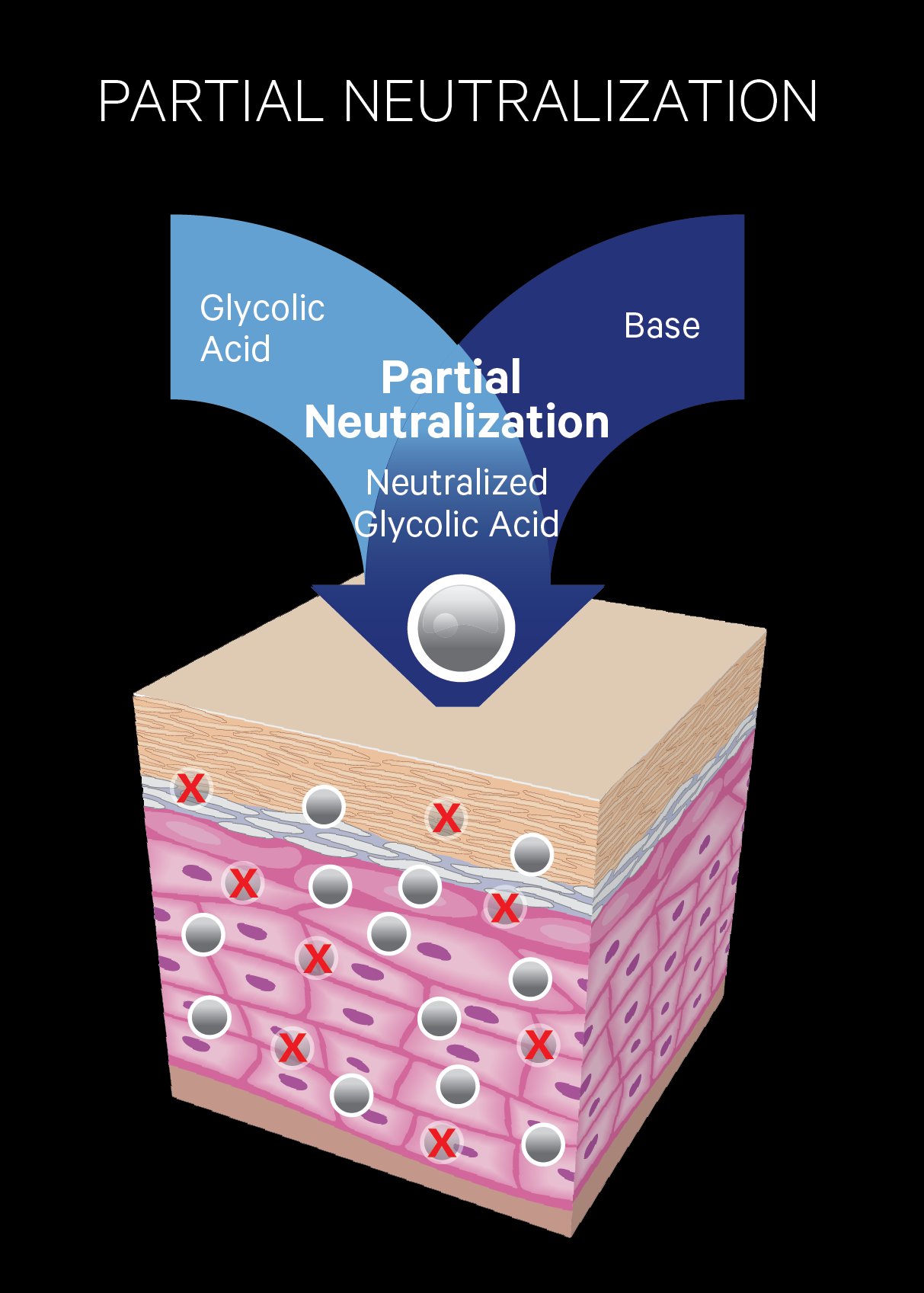 © 2021 Mission Pharmacal Company.
Only a portion of the glycolic acid delivered to the skin will be fully potent
Partially neutralized glycolic acid is rendered less potent and less effective than esterified glycolic acid
© 2021 Mission Pharmacal Company.
100% of the glycolic acid is esterified and fully potent for maximum effectiveness
All glycolic acid is released over time resulting in increased effectiveness and decreased irritation
GlyDerm® skincare products are able to deliver gentle, effective, full-potency glycolic acid to the skin over time by utilizing a unique esterification process. In GlyDerm skincare products, glycolic acid is combined with a natural citric alcohol to create an ester, a chemical structure that quite easily reverses when applied to the skin. Unlike neutralization, esterifcation allows delivery of fully potent glycolic acid, over time, into the skin's layers, where it can work gently to reduce signs of aging and photodamage. All of this without the irritation, blotchiness, unwanted downtime and dry skin often associated with other alpha hydroxy products. The result is more beautiful skin, for all skin colors and types, even the most sensitive.